Tools, monitoring and insights
---
Website monitoring, domain monitoring, SSL monitoring, email blacklists, website speed test, Google Analytics integration, Google AdSense integration, advanced domain checkers and so much more!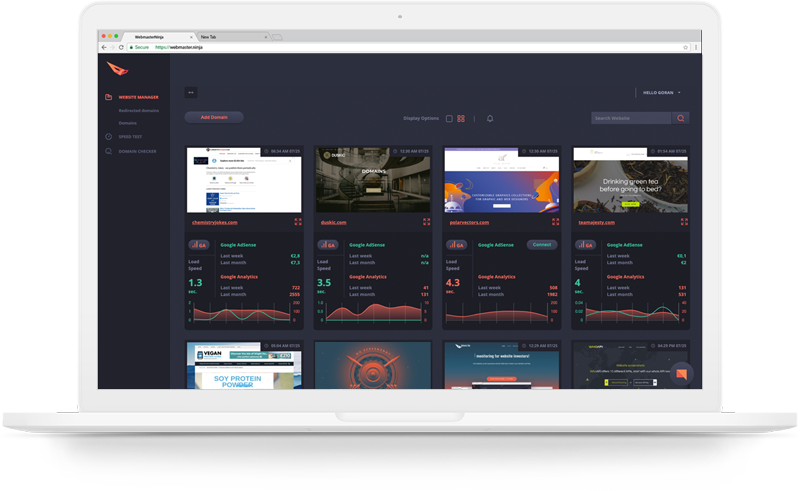 Website Monitoring
Website downtime notification, domain name expiration, SSL expiration, domain name registrar change, email blacklist notification, NS and MX change.
Domain Watch
Get the email notification when a domain name is about to expire. Or, when a domain name was brought back to the market, and is available for registration!
Website speed test
Webmaster.Ninja tracks your website load time, and notifies you when it increases drastically. Giving you the ability to act fast and improve your client's experience.
Website Manager
Track your websites like never before! Connect your Google Analytics, AdSense and Search Console accounts. Whois, website screenshot, web hosting information.
Integration with Google Analytics ®
Connect your website with Google Analytics and check your latest website traffic within Webmaster.Ninja. Making it easier to check if everything is going according to schedule.
Integration with Google AdSense ®
Check your AdSense earnings quickly and effortlessly. Without logging in and segmenting your portfolio, just scroll through Webmaster.Ninja.
Integration with Google Search Console ®
Check your page and keyword rankings on Google SERP. Graph can show you stats for last week, last month and last 3 months
More coming soon
This is just the beginning! We have a lot of plans and ideas how to improve Webmaster.Ninja. There are new products and features already in the pipeline.
Become a Webmaster Ninja
---
At webmaster.ninja you can find: website monitoring, domain monitoring, SSL monitoring, advanced domain checker, and other tools that will help you to track your portfolio of websites.
Website Monitoring
Website downtime? Expired SSL? Expired domain? Error establishing a database connection? With Webmaster.ninja track everything on one dashboard!
Website Downtime
When your website is down, it is not making money and it is damaging to your brand. Setup monitoring!
SSL expiration
When your SSL expires every website visitor and potential client gets a warning that your website isn't safe, including Google spiders.
Domain name expiration
When your domain name expires, your website is not making money and your brand is damaged.
Email Blacklist notification
When you are blacklisted, your emails aren't reaching their destination.
NS and MX change
When your NS and MX are not set properly your website and email might not function.
Registrar change
Keep track of all your domains, and get 3rd party email notification when the transfer has finished.
Tools designed for website investors
---
Spend less time worrying about your websites and improve your efficiency with tools that are included in the Webmaster.Ninja package. More will follow.
Your website portfolio should reach it's maximum potential! Try it yourself!