Before listing several benefits of SSL certificates, let's start with the basics. Like, the question that's on everyone's mind. What does SSL stand for? SSL is an acronym for Secure Sockets Layer and is a global standard security technology that enables encrypted communication between a web browser and a web server. In other words you and the website. The main objective of this cryptographic protocol is to keep the secured communication secured on the Internet. This global standard technology is used by millions of online businesses to reduce the risk of sensitive information from being stolen or hampered by unauthorized parties. In essence, it allows for a private conversation just between the two intended parties. Your browser (you), and the website (the server that holds the website).
An SSL certificate is a digitally signed file issued for a particular domain name. The certificate will have the issuer signature, serial number, and the expiration date. The certificate has to be first installed on the server, and once the installation is complete, you can access the services through HTTPS or any other SSL protocols like FTPs. So for example, if you want to upload files securely via your file transfer protocol (FTP) when you are updating your website, you can do it over your SSL certificate. It is very important the SSL is recognized by all major browsers, otherwise, the users accessing the website will just get a warning message (SSL not recognized) instead of the website.
To technical so far? What about the benefits?
If this is too technical for you, don't sweat it! In most cases, this won't even matter. The company that sells you the SSL certificate will most probably install it. After the installation, there's not much work. The SSL certificate will be installed and always present in the background. With a little cost tied to it with a negligible negative impact on the website speed, benefits of SSL certificate clearly outweigh the cons. Besides, there are plenty of low-cost SSL certificates or even free ones that still take care of the job.
The only thing you do have to watch is that your SSL doesn't expire! But don't worry, that's exactly why we built Webmaster Ninja monitoring. You will still get a notification from the SSL provider, but as we have learned with domain name expirations, it doesn't hurt to get a backup notification from a third party source. Renewing an SSL for another year is a very simple process that should be done by a system administrator or the SSL provider. This process is slightly different based on the type of SSL certificate (check below), and the provider.
Be ahead of the curve, and enjoy a Google boost
SSL certificate allows data encryption before the data is being transmitted through the Internet. Furthermore, only the server where the data is being sent can decrypt the data. This ensures that the information you submit to websites will not be stolen. Back in 06/08/2014, Google announced that having an SSL installed on your website will increase your ranking position. This is one of the benefits of SSL certificates and why website owners have started using an SSL.
Today, there is a vast growth in communication technology to maintain a robust system for website security. Sensible website owners look for reliable security technology to protect their websites from being hacked, tampered or damaged by hackers or malware. But on the other side, still, there are website owners who do not have an SSL certificate. According to research conducted by WhoAPI, 61.8% of top 1000 websites do not have an SSL certificate. The website owners need to understand the importance of owning this certificate.
Types of SSL certificates
SSL certificates are divided into five validation groups.
Domain validation certificates: They are cost-effective and can be issued in a few minutes. No extra paperwork required. They contain one domain or sub-domain that includes only email validation.
Multiple domain validation certificate: This certificate is just what it says, it protects multiple domains.
Wildcard SSL Certificates: This single SSL certificate will protect all sub-domains, including the main domain. For example: shop.domain.com, www.domain.com, and admin.domain.com
Organization validation certificates: These certificates can be issued within 1 to 3 days. They contain one domain or sub-domain which includes business verification, thus providing a high level of security.
Extended validation certificates: These certificates are issued within 2 to 7 days. They contain one domain or subdomain which includes business verification.
Personally, I would recommend EV SSL certificate for a company that has a growing online presence. Especially if it is an eCommerce. On the other hand, if it is a simple website for a small business I suppose right now any SSL would do. In most cases, it would put you in front of your competitors.
5 benefits of SSL certificates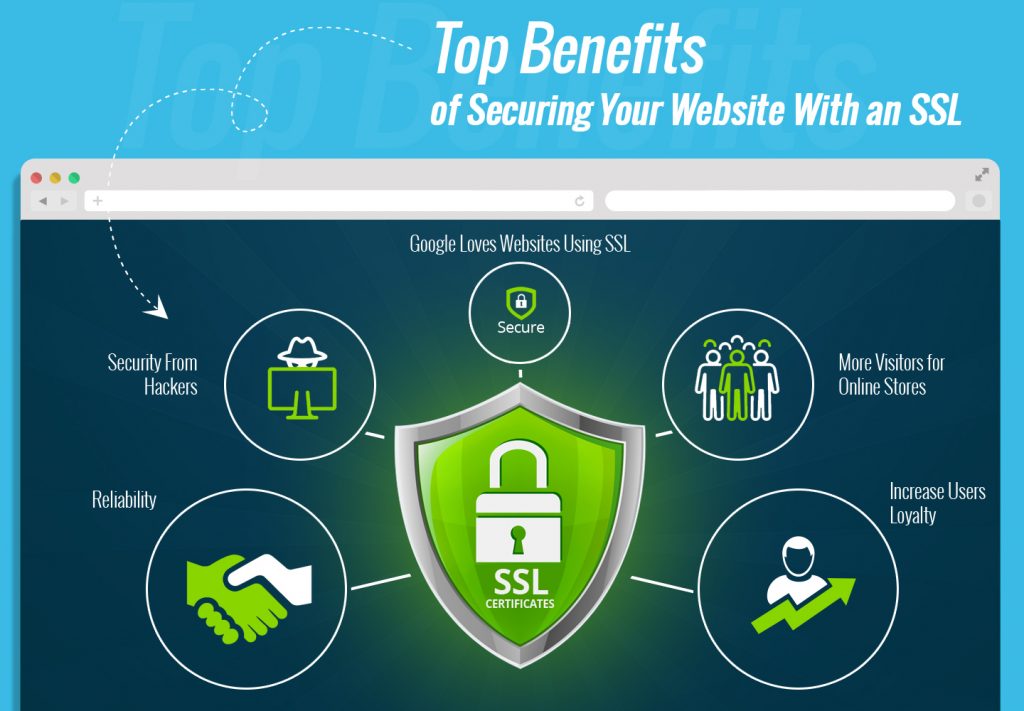 1. Security from hackers
In the virtual world, there is no shortage of phishing websites. They look the same as original, authentic website and have many techniques to entice you into providing your confidential information. But SSL identifies these websites and ensures that these fake sites will never attack your website. Especially the EV (extended validation) SSL certificates. That green bar in your user's browser will do miracles.
2. Google loves websites using SSL
There are companies that invest a lot of resources on search engine optimization without comprehending that simply having an SSL can boost its website ranking on Google search. It has been more than two years now that Google included SSL as a ranking factor in their popular PageRank algorithm. With all other things being same, a website having SSL will rank higher on the Google search than the one not having it. Why? Google has repeatedly stated that a user's experience is the number one priority. Well, feeling secure while browsing a website impacts experience. If you have a properly installed SSL certificate it will be a positive security signal and a positive experience.
3. Reliability
A website with an SSL is a mark of reliability. The certificates are only issued when the applicant passes the verification procedure. And most of the modern browsers trust the SSL certificates issued by the certificate authorities. Also, it shows that the website owner cares about their user's security. It could be that he is more of a caring provider than the website owner that doesn't install an SSL certificate. Surely that is one of the benefits of SSL.
4. Increase users loyalty
An SSL certificate is a must for you if your website has user accounts with personal data like contact numbers and credit cards. Visitors will come back again and again if they know their confidential details are secure. For example, if you see expensive Adidas shoes being sold on a large discount on a domain name with the keyword "adidas" (like adidas2018.com), there's a good chance this is a fraud. If you are suspecting this, check if the website has EV SSL installed and check it's credential and if the company selling this product is really Adidas.
5. More visitors to your online stores
Another benefit of SSL is if you are running an eCommerce store that's built with a website builder and eager to have more visits on your website, you should definitely have an SSL. Today, most of the online shoppers are aware of this communication technology. The shoppers check whether you have an SSL or not. In its absence, they might not be interested to shop because they may fear their personal data may not be kept secure and confidential.
How to choose the right SSL certificate provider?
You may be thinking to yourself, sure, the benefits of SSL certificates are great, I want that. How do I proceed? Well, make sure you choose a trusted SSL certificate provider. Here we can share some numbers on five largest SSL certificates issuers. To be honest, the top two providers hold 71% of the market share according to W3Techs. But still, I will list several largest providers, and compare some of their pricing.
Comodo (as of November 1, 2018 – Sectigo)
They have been dominating the SSL certificates sector for a while and show no sign of slowing down. Their support sometimes gets a bad reputation, but handling so many clients and keeping the prices down has its setbacks. You just can't get to 37% market share without any issues. The thing with prices for Comodo (now Sectigo) certificates is that you will probably get a better deal through one of their resellers, than on the main website. So for example, the EV SSL certificate will cost you €249 / year (approximately $300 US). Whereas on sslguru.com and thesslstore.com I found a Comodo EV SSL for $199 / year.
GeoTrust, Symantec, DigiCert, Verisign
ThomaBravo, a company that owns DigiCert acquired GeoTrust in 2018 from Symantec. Symantec is also a CA (Certificate Authority) just like GeoTrust, DigiCert, Comodo (now Sectigo) or GlobalSign. So although all three (GeoTrust, Symantec, DigiCert) are separate entities it is hard to set them apart clearly. Especially when GeoTrust is sold over and over again. For example, one of my friends that secured his website with a GeoTrust now has to renew its SSL due to the ownership change. It's a hassle no one needs in their daily schedule.
As for Symantec, they had a dispute with Google (which was one of the reasons why they decided to sell the GeoTrust company). Obviously, an SSL certificate is no good if the browser (in this case Chrome) doesn't recognize it. In the article I've just linked, you can read that Symantec is handing its infrastructure over to DigiCert. So that's another proof that these companies are connected. Besides, Symantec's EV SSL certificates prices start at nearly $1000. I am not saying the price is the deciding factor, but when something costs twice as much…
As for Verisign's SSL certificates, they can be purchased at geocerts.com. There you can see that they are now under Symantec. Symantec purchased the SSL certificate division from Verisign back in 2010. As much as their (the quartet mentioned here) market share is significant, at the moment I wouldn't recommend it to the everyday user. Some of them are quite expensive compared to other providers, and you don't know where you will end up in a year. It's hard to focus on the benefits of SSL when you are not sure who is your provider. That is also why the past few paragraphs might have been a little confusing.
GlobalSign
I learned about GlobalSign during one of World Hosting Days Global events in Rust Germany. Their market share is significant, at nearly 5% and they are a reputable company based in Belgium/Japan and it is a subsidiary of GMO Internet. Just like Sectigo (formerly Comodo), on their website prices for EV SSL certificate start at $599 / year, while for example, SSL2BUY offers them at $429 / year.
That's it for now. In the future, we may update this post with IdenTrust, Geotrust, Thawte, and other providers. This is more than enough of benefits of SSL to take in, and I hope this was a learning experience for you. I did my best to back up the text with facts since none of the links above are affiliate links.
I've been an online entrepreneur for more than a decade. Back in 2011, I sold my first small business. 500 Startups alumni. I love to read and write in every shape or form. Founder of WhoAPI and webmaster.ninja and website investor.